Sustainable purifying water bottle-action; let's make 2021 a good year! A new year, an open road ahead.
We wish you all a beautiful, healthy, safe, and prosperous 2021!
Of course, we hope to see you all safe and sound in Nepal this year, and we are awaiting you eagerly.
In 2021 we want to focus on sustainability. If 2020 learns us one thing it is that we humans are vulnerable. We are part of all life on this great planet and it is important to realize and treasure that thought.
So we want to offer you a small hands-on way to be part of the solution in preserving the earth and to make your holiday in Nepal even better.
We are starting a sustainable promotion.
If you book a trip with us for the year 2021, you will receive one
purifying reusable water bottle
per traveler. You will receive this bottle upon arrival in Nepal . You can use it throughout the journey, so you do not have to drink water from plastic bottles and you are always provided with clean and safe drinking water.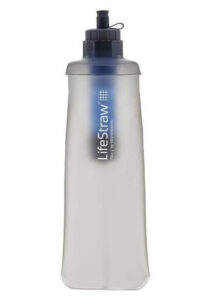 At the end of the trip, you can choose whether you want to take the bottle home and keep on using it. Or you can leave the bottle with us in Nepal.
If you leave it behind we will recollect it and will hand out the cleaned purifying water bottles to the people living in the mountains. People who do not have access to clean drinking water, so that can enjoy safe water and better health after your visit. 
This way we will prevent that our travelers will have to buy and use plastic drinking bottles, and our travelers can choose if they want to support the local community by donating their drinking bottles to the local people. Thus helping them with a more healthy lifestyle. This sustainable purifying water bottle-action applies to everyone who books a trip, private or group tour with us that will take place in 2021 and lasts for 3 days or longer.